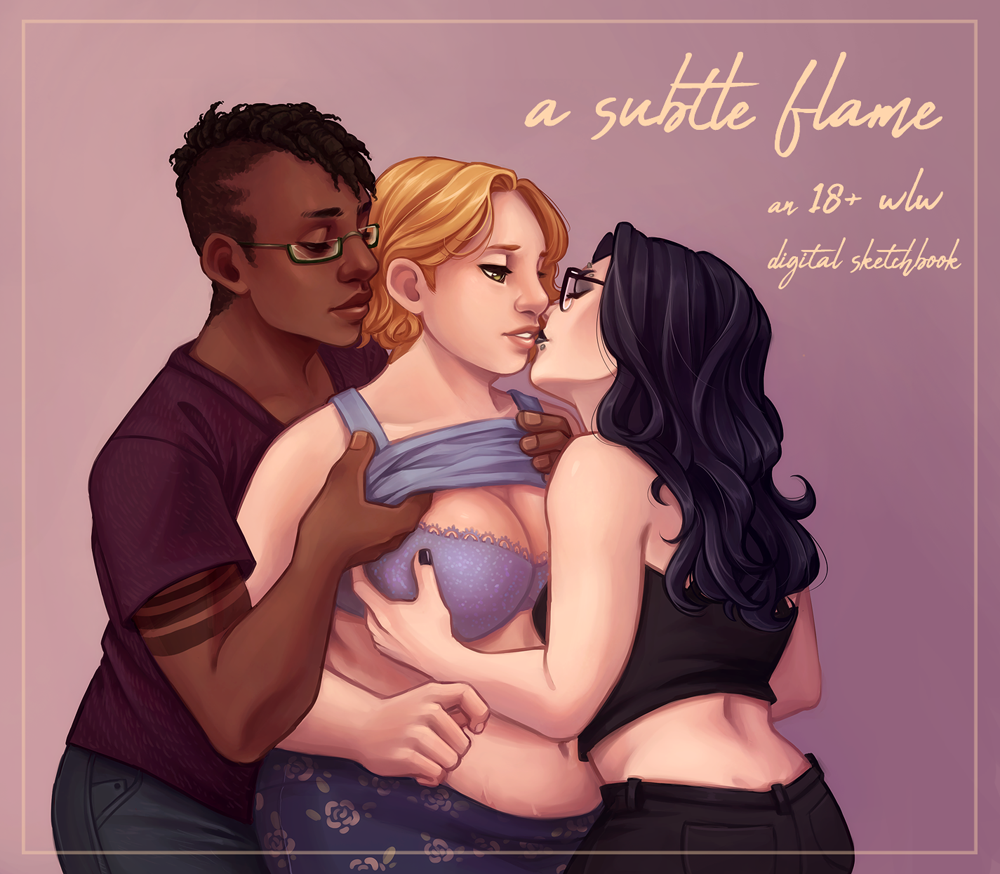 a subtle flame
A downloadable sketchbook
a subtle flame is an 18+ wlw/lesbian trans-inclusive sketchbook created by lesbian artist Elly Beck with conceptual help by lesbian novelist Sam Farren. The characters depicted are from Elly's webcomic Total Party Kiss! and Sam's novel series, Dragonoak.
Don't worry if you aren't familiar with the works, the images are still of cute girls and nonbinary lesbians having good, sexy (and occasionally, kinky) times with their girlfriends, wives, friends, and Akela.
For those familiar with the works, or who are interested in getting acquainted, annotations are provided by Sam and Elly for many of the images! (Spoiler warning for Dragonoak, however! We advise enjoying the imagery, reading the books, and then going back for the annotations.) Dragonoak can be read on Kindle devices and the Kindle app; search "Dragonoak" on Amazon!
The sketchbook includes 45 pages of smut (including sketches, illustrations, and a couple paintings) and 26 pages of annotations.
Please read the disclaimer down below for details about the specific contents of the book, as it should cover any trigger warnings required. We hope you enjoy this book!!! Thanks!
!!!Disclaimer!!!
This sketchbook contains sexually explicit material and is intended only for audiences of ages 18 and over.
There is nudity, but no explicitly graphic images of genitalia specifically.
There are no images of non-consent or dubious consent; all sexual activity is performed with enthusiastic consent.
Be advised there are depictions of kink/BDSM in the forms of restraints, collars, and injury in the forms of scratching, whipping, and bruising. This book also includes multiple instances of strap-on harnesses and dildos.
Types of sexual activity depicted include: penetrative, oral, and manual sex.
Purchase
In order to download this sketchbook you must purchase it at or above the minimum price of $20 USD. You will get access to the following files: